I experimented with some compressor modules dealing with excessive transient peaks.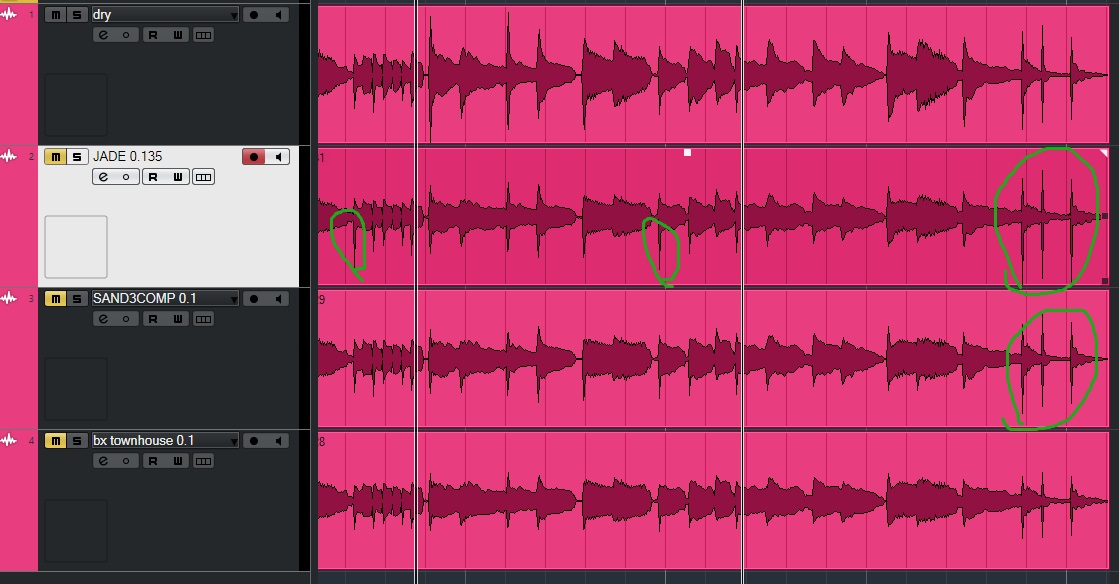 I simply experimented with a few plug-ins. The first track is the dry sound track of electric guitar picks; the second is the track waveform processed by the JADE compressor module (attack is set to 0.135ms), the third track It is SAND's A compressor (attack0.1ms); the fourth track is the bx_townhouse compressor (attack0.1ms) of the plugin alliance; the release time of these tracks is set at a faster position, and the amount of compression is slightly exaggerated Around 8dB. The results now appear to be somewhat problematic.
Acustica Audio's compressor has a slower attack time than other manufacturers' compressors under the same parameters (not only limited to the experimental bx_townhouse in the figure, but also other modeling or pure digital compressors). Usually the attack value of 0.1ms should be enough to suppress the transient of the head, but Acustica Audio generally misses these transient peaks to varying degrees, especially the peaks of the last three tones of the audio track, which is somewhat "incorrect", The PA compressor (including other compressors) can suppress the transient more correctly by setting a very small attack, achieving the goal.

I also tried the PINK3 compressor. When I set the attack to 0.03ms, the peak value it missed was still very obvious. In fact, I can also adjust SHMOD to between 1 and 0, so that these transient peaks can be processed in time,but the official statement that the SHMOD value at 2 is the compression behavior of the original hardware that is actually sampled and modeled.
So is Acustica Audio's compressor a problem? Or is it really difficult for the original hardware to solve this extreme transient?
(I think the waveform can reflect some of the audio problems. There is no discussion of the auditory experience here. Personally think that in this case, the "transparent" obvious transient sounds must also sound more prominent. Please correct me if it is inappropriate.)