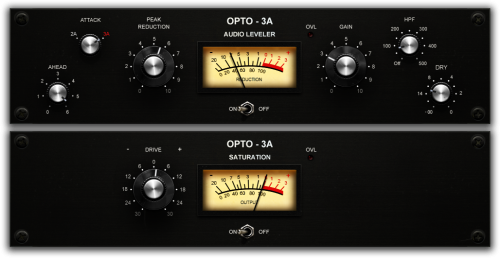 OPTO 3a is Inspired by a Classic Leveling Amplifier. Smooth rms leveling that is Transparent but with some musical Compression distortion in the higher gain reduction area.
Program dependent T4 Cell style curves!!
Pic below shows 2a charging release changing the attack. Gives a subtle double attack character.
Features
4 samples rates 44.1, 48, 88.2, 96
Two stage attack and release (Program dependent)
Limit/Compress mode
TWO attack choices in one preset- 2a and 3a
harmonics preset
N4 and N3 jpn skins with reduction meter
Side chain presets
ahead and High pass filter for cleaning up distortions
Dry control for parallel dry signal
This release will work with nebula versions 1.3.903 and above. Side chains may not work in this earlier version.
If you bought before. The upgrade is free.If you have any problems with downloads please PM me.
A email will be sent out soon for all previous customers.
In use-
For complete emulation use Comp>PRE in series
https://www.timpetherick.co.uk/downloads/opto-3a/